This Page is Home

Updates
Penta-Ocean Construction Co., Ltd.
Kajima Corporation
Yorigami Maritime Construction Co., Ltd.
Completion of CP-16001, an Offshore Installation Vessel Equipped with a 1,600t lifting Crane

Tokyo, Japan - September 27, 2023 - Penta-Ocean Construction is pleased to announce that CP-16001 (hereinafter, the Vessel), an offshore installation vessel equipped with a 1,600t lifting crane was completed and delivered, which had been under joint construction with Kajima Corporation (President, Hiromasa Amano) and Yorigami Maritime Construction Co., Ltd.(President, Masafumi Yorigami).
PaxOcean Holdings (Singapore), which is part of Kuok(Singapore) Limited of Kuok Group, the largest international conglomerate group in Malaysia, was responsible for the overall building of the Vessel. The delivery ceremony was held at the Graha Shipyard in Batam, Indonesia, on September 8, 2023.

The shipbuilding contract was signed on January 30, 2020, the construction started on October 30 the same year, and the Vessel was launched in December 2021. Although amidst the prolonged COVID-19, thanks to the tremendous efforts of all those involved in the project, the advanced offshore installation vessel which can accommodate the increasing size of wind turbines, has now been completed. The Vessel will be owned and operated by PKY Marine Co., Ltd., a joint venture of the above-mentioned three companies.

The Vessel will start operating in the Kitakyushu Hibikinada Offshore Wind Farm Construction Project in November, where she will be responsible for part of the foundation work and the installation of 25 units of 9.6MW wind turbines. Going forward, particularly after 2027 when offshore wind power projects in the general sea areas will be set for a growth spurt, the Vessel is expected to take a significant role as a Japanese-flag offshore installation vessel. We are confident that she will contribute to the expansion of offshore wind power in Japan.


The Vessel is 120 meters long and 45 meters wide, with a maximum capacity of 100 people, equipped with a large, fully-revolving crane with a 1,600-ton lifting capacity to accommodate larger offshore wind turbines and their foundation structures. By ensuring the 130m-boom length of the main crane and the 143m hook height above deck, she will allow for efficient construction of 15 MW-class wind turbines over the sea.
The basic design and the jack-up system of the Vessel were undertaken by GustoMSC (the Netherlands), which handles more than 70% of the world's offshore installation vessels, and the main crane was provided by Huisman (the Netherlands), a leading offshore crane manufacturer. The construction of this cutting-edge work vessel draws on the expertise accumulated by Penta-Ocean Construction Co., Ltd. through the construction of CP-8001, Japan's first offshore installation vessel equipped with an 800t lifting crane. The cabins are equipped with wooden furniture with access to private shower and WC facilities, offering benefits to the onboard crew and engineers as a sustainable work vessel.
<References: Press releases>

Construction of New Multipurpose Self-Elevating Platform (SEP) equipped with Large Crane (1,600t lifting capacity) (November 20, 2019)
https://www.penta-ocean.co.jp/english/updates/2019/191120.html

Launching Ceremony of the New Offshore Installation Vessel "CP-16001" (January 5, 2022)
https://www.penta-ocean.co.jp/english/updates/2022/220105.html


Delivery ceremony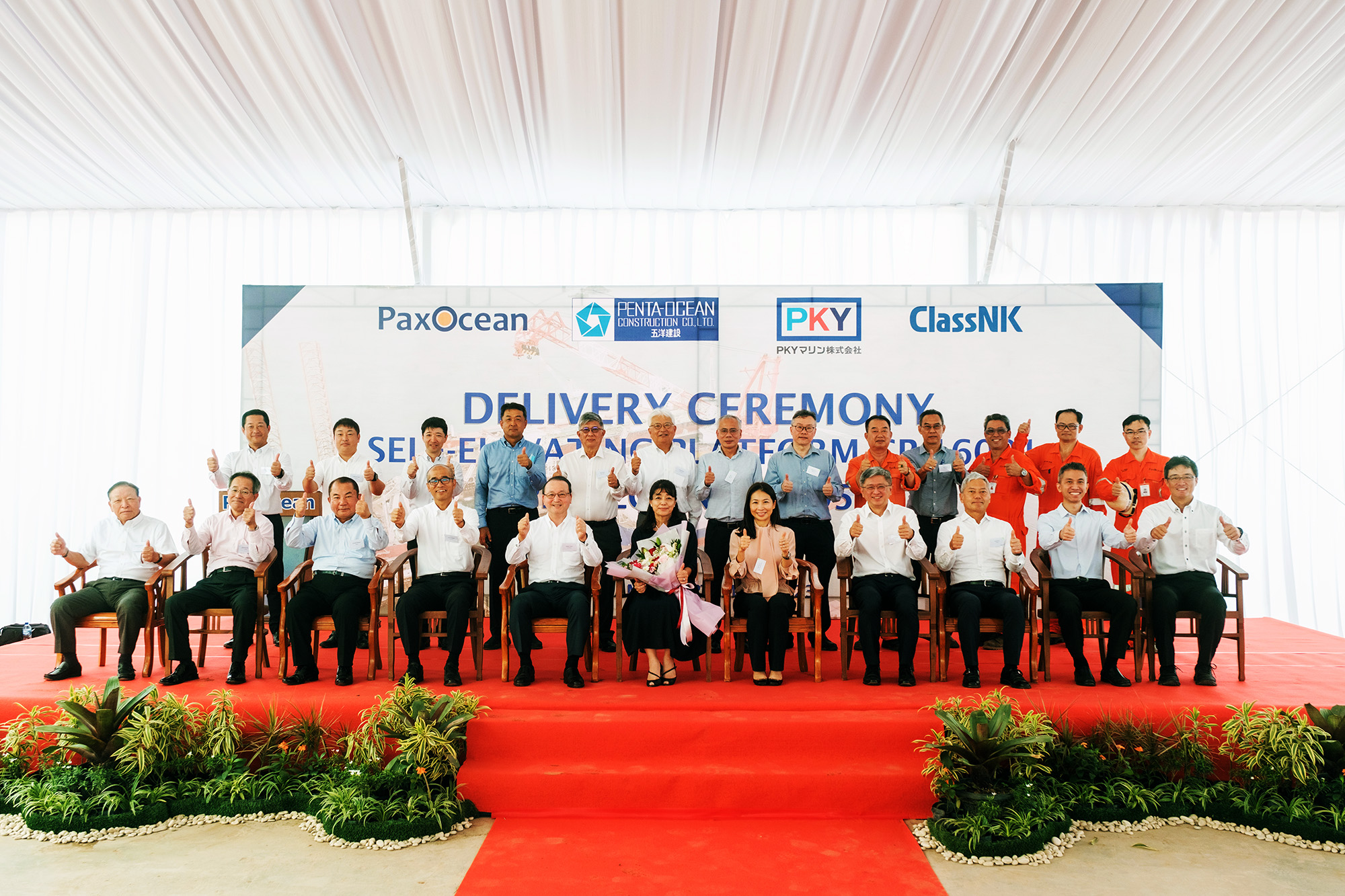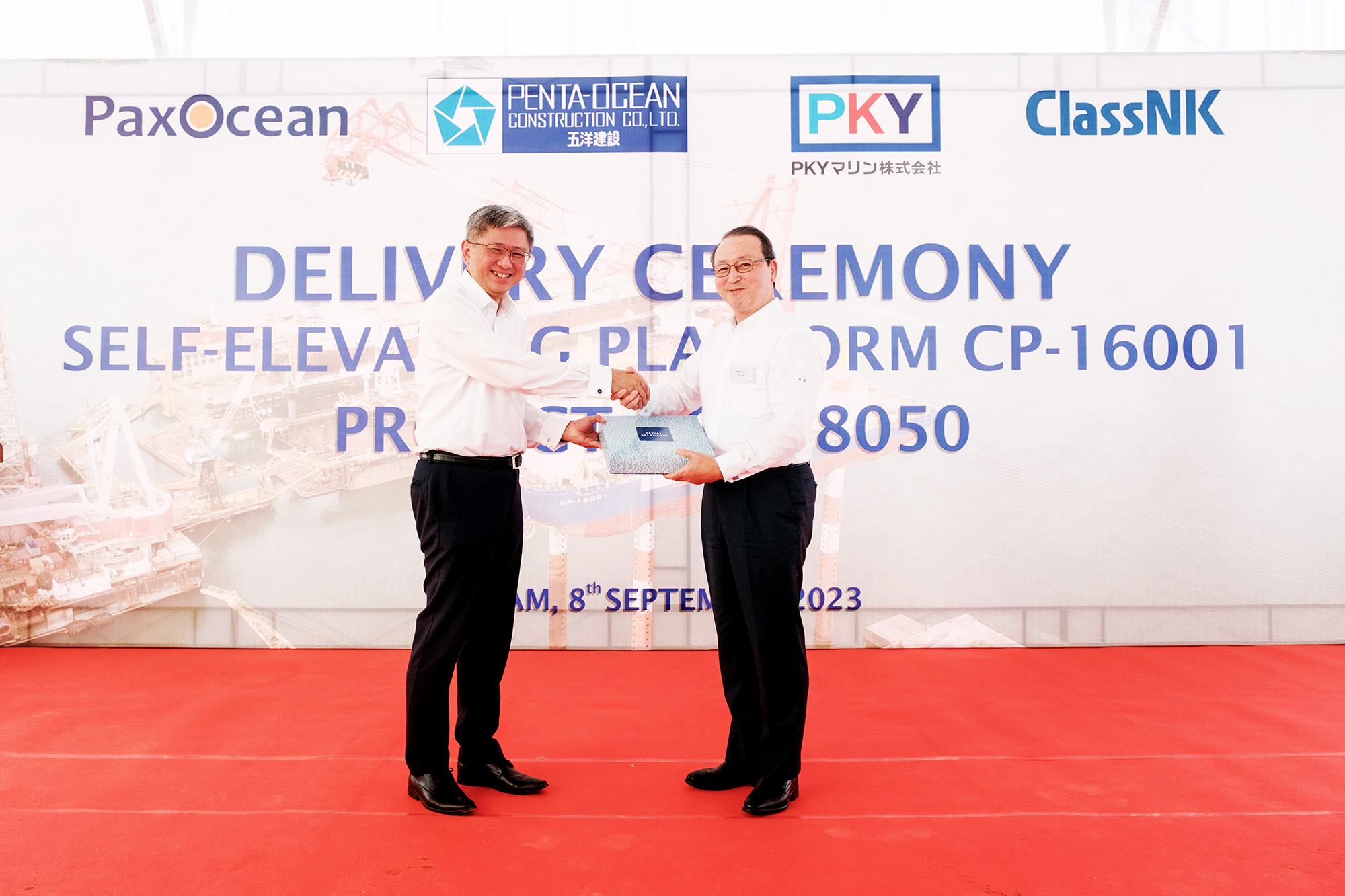 Left: Mr. Low Soon Teck, Executive Vice-Chairman, PaxOcean Holdings
Right: Mr. Takuzo Shimizu, President, Penta-Ocean Construction Co., Ltd.
CP-16001 at completion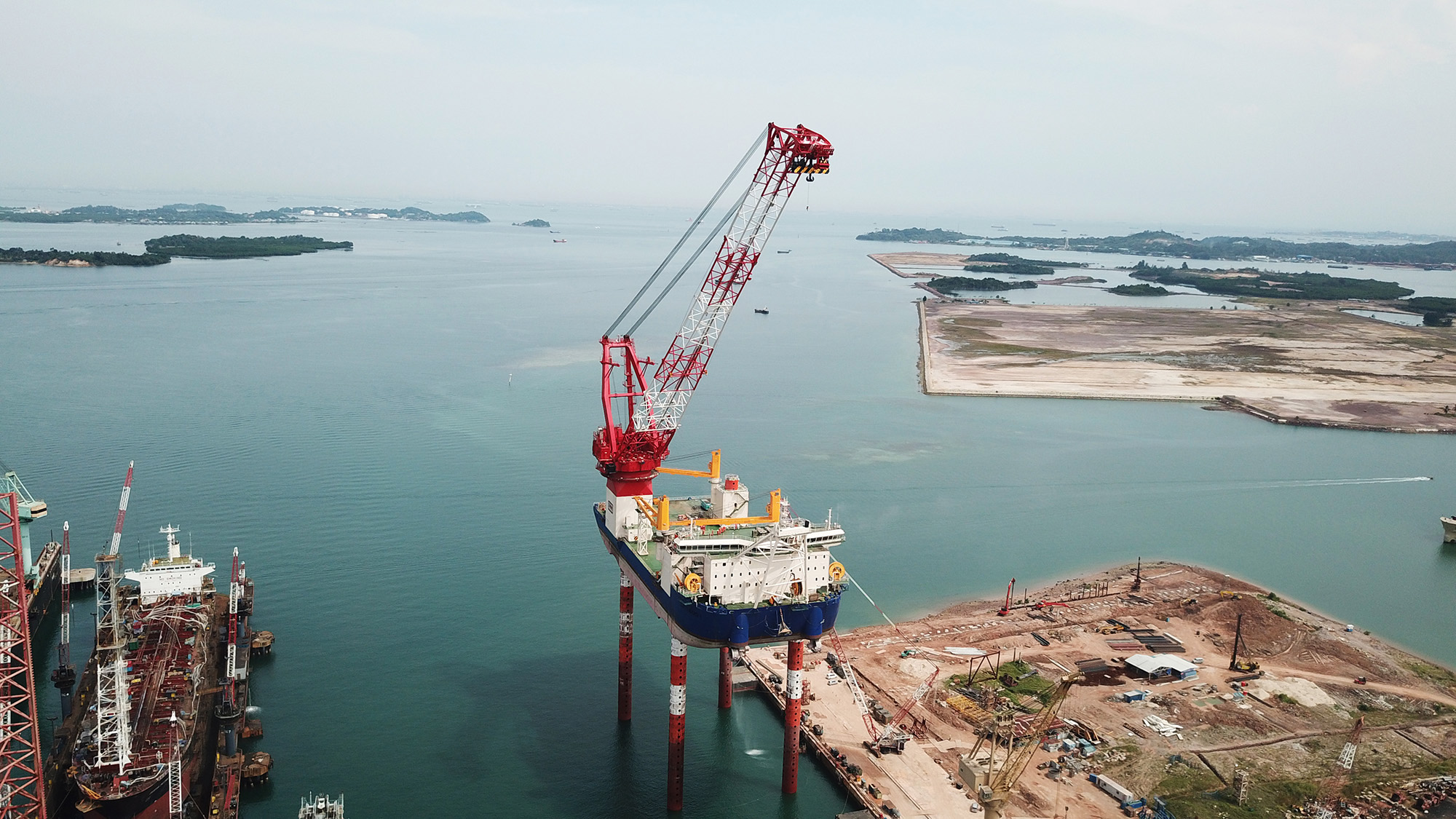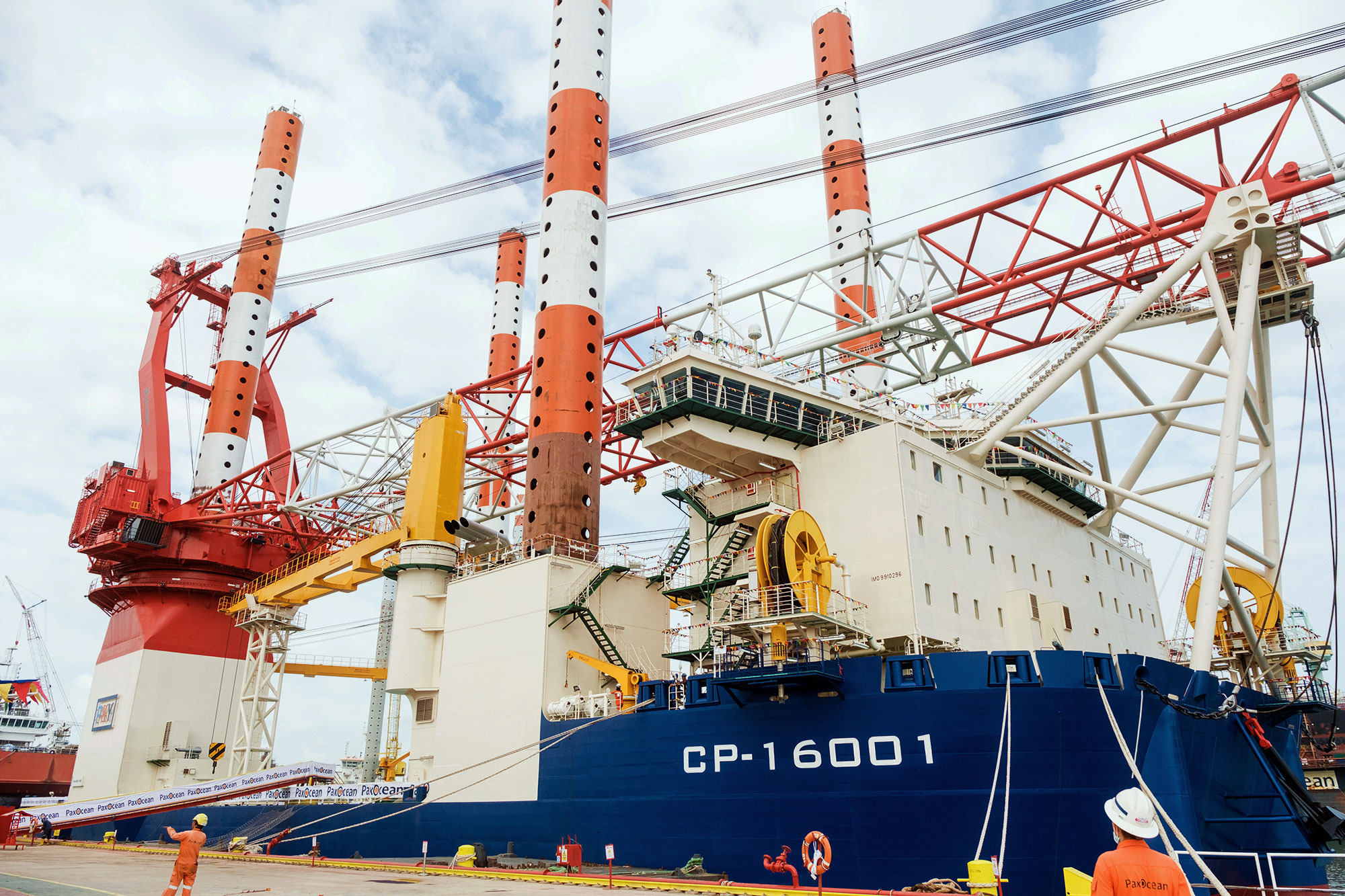 ---