This Page is Home

Updates
Penta-Ocean Construction Co., Ltd.
Takuzo Shimizu, President, CEO and Representative Director
Awarded the contract to construct Singapore's cross-border Rapid Transit System with Malaysia
Tokyo, Japan - November 30, 2020 - In the Singapore-Johor Bahru Rapid Transit System (RTS) Link Project, which connects Singapore to Johor Bahru at the southern end of Malaysia, Penta-Ocean Construction Co., Ltd. has recently been awarded a contract for the construction of a station building, RTS link tunnels and a Customs, Immigration and Quarantine (CIQ) Building on the Singapore side by the Singapore Land Transport Authority (LTA). The contract is worth approximately JPY 71.4 billion.

The RTS project is a joint bilateral project between Singapore and Malaysia, and scheduled to open officially at the end of 2026. The CIQ facility building and the station building on the Singapore side will be constructed on a 30-ha plot adjacent to Woodlands North Station (constructed by POC and inaugurated in 2020), which is the terminal station of the existing MTR Thomson-East Coast Line. After the construction, the new buildings will be directly connected to the existing building by an underground concourse, providing convenient access to the city center of Singapore.
This large-scale project is expected to be technically challenging, involving a lot of blasting and rock excavation. Our extensive track record both in civil engineering and building construction in Singapore were key considerations in the award of this contract. We will contribute to the further development of Singapore and Malaysia by providing safe and high-quality construction within the target time frame.
With regard to other projects managed by LTA, we are currently in the process of constructing Bright Hill Station, Orchard Station of Thomson-East Coast Line (MTR), as well as the N 105 section of North South Corridor Expressway (NSC).
Since our first venture in Singapore in 1964, we have been involved in a number of major government projects including land reclamation, MTR related construction and medical facilities. Going forward, we will continue to pursue aggressive sales strategies in Singapore as the most important market for our overseas businesses.
Project site location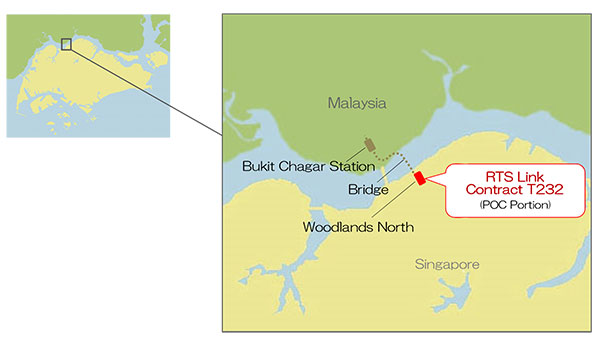 Project outline
Project Name

Construction of Rapid Transit System (RTS) Link Contract T232

Client

Singapore Land Transport Authority (LTA)

Contractor

Penta-Ocean Construction Co., Ltd.

Contract Amount

Approximately JPY 71.4 billion ( S$ 933 million )

Site

Woodlands District, Singapore

Outline

(Usage) Customs, Immigration and Quarantine (CIQ) Building, and Woodlands North Station


(Structure) Three levels underground, three levels above ground, RC structure

(Height) 16m

(TFA) Approximately 180,000 m2
---