This Page is Home

Updates
Penta-Ocean Construction Co., Ltd.
Takuzo Shimizu, President, CEO and Representative Director
Research and Development on Technologies to Lower the Cost of Floating Offshore Wind Power Generation
Tokyo, Japan – Sep. 8, 2020 – Penta-Ocean Construction Co., Ltd., in collaboration with TEPCO holdings and the University of Tokyo, has applied to and been successfully selected by the New Energy and Industrial Technology Development Organization (NEDO) *1 to participate in its "Research and Development on Technologies to Lower the Cost of Floating Offshore Wind Power Generation".
In this research, we will conduct a study on a rational and efficient construction method for spar-type floating structures*2 capable of mounting a 10 MW class wind turbine under the severe metocean conditions in Japan, with the aim of reducing the construction cost of offshore wind turbines.
So far, targeting the bottom-fixed offshore wind power generation, we have started operation of Japan's first offshore installation vessel, as called SEP vessel*3, with an 800t lifting capacity crane, and are currently building a larger vessel equipped with a 1,600t lifting capacity crane. In this April, we established the Offshore Wind Farm Business Divisions Group to strengthen our initiatives towards the takeoff of offshore wind farm projects in Japan. Furthermore, with regard to the floating offshore wind power generation, we will make the most of our extensive experience and expertise in marine civil engineering that we have gained so far, in preparation for their practical use in the near future.
As a top-runner in the offshore wind farm construction field in Japan, we will endeavor to contribute to the further expansion of offshore wind power generation in Japan by realizing rational and highly-efficient construction.
*1 Referenced to the official website of NEDO, https://www.nedo.go.jp/koubo/FF3_100286.html
*2 Spar-type floating structure: A cylindrical floating body which is less susceptible to waves due to small penetration area in water surface
*3 SEP: Self-Elevating Platform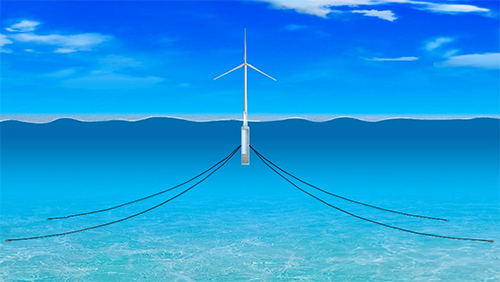 Conceptual diagram of a spar-type floating structure
---