This Page is Home

Updates
Penta-Ocean Construction Co., Ltd.
Takuzo Shimizu, President, CEO and Representative Director
Development and Operation of Integrated Steel Frame Construction Management System using BIM Model
Tokyo, Japan – Aug. 19, 2020 –Penta-Ocean Construction Co., Ltd. has been promoting the development and field deployment of Penta-Ocean Integrated Construction Management System (PiCOMS), which comprehensively manages the building construction using BIM Model, and developed "PiCOMS-S, a structural steel frame construction version.
Last year, we firstly developed the precast version of the technology "PiCOMS-PCa" and confirmed its effectiveness through on-site operation. The newly developed "PiCOMS-S" has been put into operation at 2 sites: "(tentative name) Construction of Full Service Hotel in Fujimi-cho District, Naka-ku, Hiroshima City" (Hiroshima City, Hiroshima Prefecture) and "Construction of Iyotetsu West Building Business Hotel" (Matsuyama City, Ehime Prefecture).
In conventional steel frame construction, only the person in charge had the important information such as the drafting/approval of the steel frame shop drawings and the steel frame member fabrication status. Thus, the person in charge had to assume the great responsibility of managing progress of each process. Therefore, we endeavored to"visualize"the progress management by showing the shop drawings and the progress of steel frame fabrication in the BIM model for each component. By sharing the above data among construction personnel, they can realize more effective and efficient construction management, ensuring higher productivity. For example, when one process is behind the schedule, the system will highlight the delayed member to draw attention.
Furthermore, as in the precast work version, this system does not require BIM skills or specialized equipment, and the staff and partner companies can select the BIM 3D model directly from devices (tablets etc.) and input the progress status.
We will also apply the new system to the progress management of steel frame construction and outer wall installation work at the two sites, which will aim to enhance efficiency and further improve quality.
[System features]

·Integrated progress management from drafting through approval of steel frame shop drawings and fabrication status
·Requires no specialized skills of BIM and all construction staff can use it with ease of operation
·Approximately 20% reduction in management work such as instructions to and reporting from construction personne
Sample screen of Penta-ocean integrated Construction Management System for Steel Frame Construction (PiCOMS-S)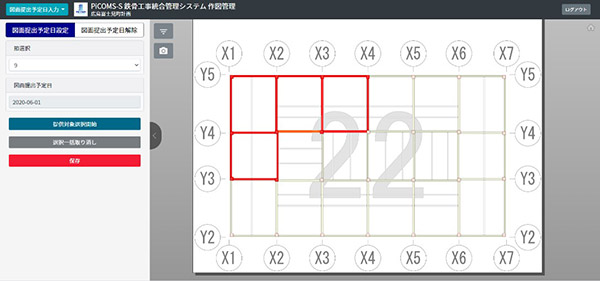 Screen setting of drawing status
Enter the progress status (scheduled submission date of drawing, submission date, approval date) in the highlighted (red) portion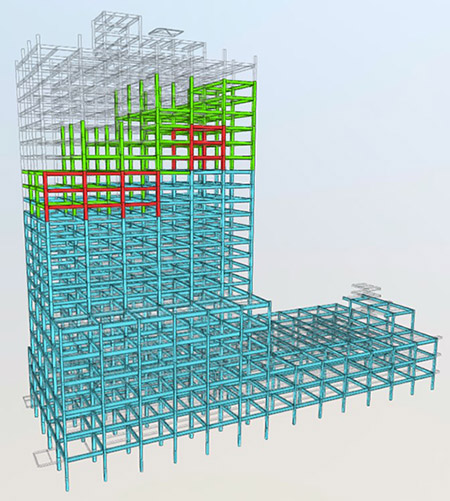 Progress confirmation screen of steel frame fabrication
Blue: Approval completed Red: Delayed Green: Drawing completed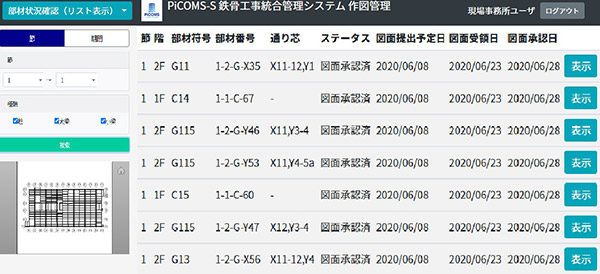 Member fabrication status list display screen (drawing progress status list)
---
---