This Page is Home

Updates
Penta-Ocean Construction Co., Ltd.
Takuzo Shimizu, President, CEO and Representative Director
Construction Data Collection & Sharing System Using BIM/CIM
Tokyo, Japan – Mar. 23, 2020 –Penta-Ocean Construction Co., Ltd. has developed "i-PentaCOL/3D", a cloud based system for collecting and sharing various construction data on construction sites. The new system significantly enhanced the capabilities defined in"i-PentaCOL", which had been developed in 2017. With the BIM/CIM technologies applied to its information base, the new system carries out 3D data communication between construction personnel, resulting in considerable time savings needed for data collection, data management and reporting, as well as commuting time to attend meetings in person.
The use of BIM/CIM technologies has already been introduced in construction sites but not yet fully utilized, because the specialized software is costly and the system requires a high level of operation skills. In the new system, we implemented a newly developed BIM/COM models, which are specialized for use in construction sites and excellent in operability. It is also equipped with user-to-user communication function which allow them to record a BIM/CIM model instruction video on a web browser and enter comments on the spot, providing timely instruction to the other users in remote locations.
The system was adopted in the"Project on the Introduction and Use of Innovative Technologies to Dramatically Improve the Productivity of Construction Sites (as part of the initiatives called Public/Private R&D Investment Strategic Expansion Program – "PRISM" for short)"by Ministry of Land, Infrastructure and Tourism for the first fiscal year of Reiwa era. Now it is introduced for trial in the Yobesawa Tunnel construction project on National Route No. 106. In the project, the system handles measured construction data such as tunnel face pictures, ahead of tunnel-face exploration and pit displacement, etc. At the same time, during the tunnel boring, the system displays the effects of surface displacement on BIM/CIM model at the pit entrance side, to track the slope behavior of the site.
We intend to actively utilize "i-PentaCOL/3D"in construction sites to improve productivity and enhance labor savings at construction sites.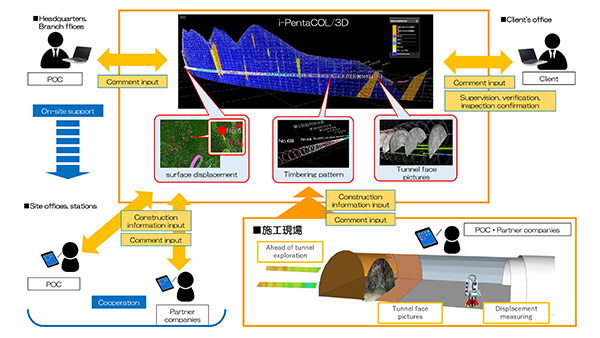 Utilization scheme of i-PentaCOL/3D
---