This Page is Home

Updates
Penta-Ocean Construction Co., Ltd.
Takuzo Shimizu, President, CEO and Representative Director
Initial Development and Operation Start of Integrated Construction Management System for Precast Works using Building Information Modelling (BIM) Technology
Tokyo, Japan – Dec. 16, 2019 – Penta-Ocean Construction Co., Ltd. is developing and promoting site implementation of "Penta-Ocean Integrated Construction Management System"(PiCOMS), which controls and manages building works using the BIM model.
As the first initiative, we developed "Penta-Ocean Integrated Construction Management System for Precast Works"(PiCOMS-PCa) and started to adopt it in September 2019 in the "New Construction Works of Urban Area Redevelopment Project Type 1 in Musashi-Koyama Station Road Area".
The system makes it possible to "visualize" the progress of precast construction in high-rise buildings, and enables real-time sharing of manufacturing and installation information among the construction personnel. We were able to significantly enhance operation efficiency by reducing management works to about half compared to conventional procedures.
Although similar systems have been studied by various companies so far, they usually required a high level of BIM operation skills or specialized devices, which made it difficult to widely make use of these systems at construction sites or precast manufacturing facilities. To tackle this issue, we developed a user-friendly system which eliminates the need for skill level or specialized devices, and allows any staff or worker to select a BIM 3D model component from a tablet terminal and input the installation plan and results. The workers can also have an easy and quick access to the latest information from smart phone by QR code.
We intend to expand the use of PiCOMS not only in precast construction but also for other construction types, such as structural steel works, in order to further improve construction and quality control in the future.
[System characteristics]
1.Controls and manages construction progress from manufacturing to installation by sharing information with precast manufacturer.
2.No BIM expertise or specialized devices are required, and all construction workers can use it with simple operation.
3.Reduces the amount of management works, such as instructions and reports from construction personnel by about half compared to conventional procedures.
Sample on-screen displays of PiCOMS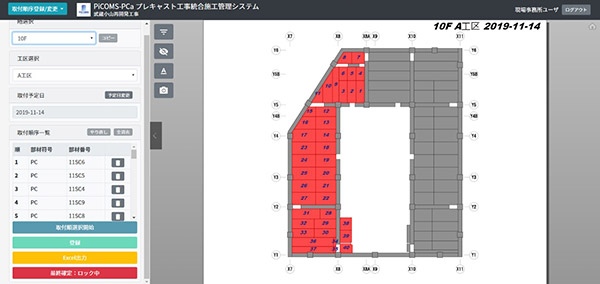 Installation configuration screen of PCa components
Verification of installation progress in 3D

Verification of PCa work progress
(Red: Installed Yellow: In progress)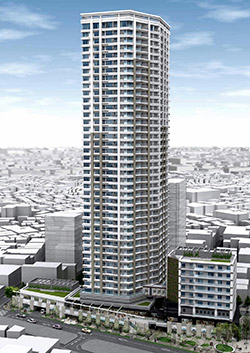 Exterior Image
Outline of New Construction Works of Urban Area Redevelopment Project Type 1 in Musashi-Koyama Station Road Area

Address: 3, Musashi-Koyama, Shinagawa-ku, Tokyo
Client: Union of Urban Area Redevelopment of Musashi-Koyama Station Road Area
Design/supervision: Research Institute of Architecture, Tokyo office
Contractor: Penta-Ocean Construction Co., Ltd.
Size: GFA: 53,676.48m2
Structure: RC, 41 storeys above ground and 2 basement floors
Completion Schedule: June 2021
---