This Page is Home

Updates
Penta-Ocean Construction Co., Ltd.
Takuzo Shimizu, President, Chief Executive Officer and Representative Director
Award of Construction Contract for Large-scale Road Tunnel Project in Singapore
Tokyo, Japan – August 6, 2018 – Penta-Ocean Construction Co., Ltd. (President: Takuzo Shimizu) and Bachy Soletanche Singapore Pte Ltd. of France have jointly been awarded the contract to design and construct a stretch of the North-South Corridor (NSC), as Contract N105, by Land Transport Authority (LTA) of Singapore.
The NSC has a total length of 21.5 km traversing the north through to the south of Singapore. It comprises viaduct bridges in the north side and underground road in the urban area on the south side. Contract N105 is to design and construct a 1.04 km stretch of underground highway tunnel with 4 lanes on both directions and commuter facilities. The contract amount is approximately JPY 64.2 Billion and Penta-Ocean has a share of approximately JPY 37.3 Billion. The construction period is about 100 months and expected to be completed by November 2026.
N105 Section is located in a built-up area with heavy traffic and high concentration of buildings, such as hospitals, shopping centers, a school, etc. This section of the underground highway tunnel that will be constructed near the existing MRT station and tunnel, therefore this N105 is the most technically challenging contract in NSC.
In the tender evaluation criteria for this section, the technical quality (design and construction methods) and safety method of tender proposal were given more emphasis than the price proposal. In the most technically challenging where the tunnel crosses the existing MRT tunnel, we proposed the Japan's proven construction technology and together with our excellent construction track record.
Currently, we are also working with Bachy in the Thomson-East Coast Line Orchard Station, also a contract under LTA, which is located in the adjacent existing Orchard Station and Tunnel, wherein high levels of construction method and safety management system were also a major factor that led to the award of this project to our joint venture.
Since we expanded into Singapore in 1964, we have participated in a number of large-scale projects, and we are actively planning to continuously participate in the multiple expressways, large scale port and harbour projects in the future. With abundant achievements and wealth of experiences, we will proactively develop our business operations and expand the business by making Singapore our most important and prime overseas market.
Site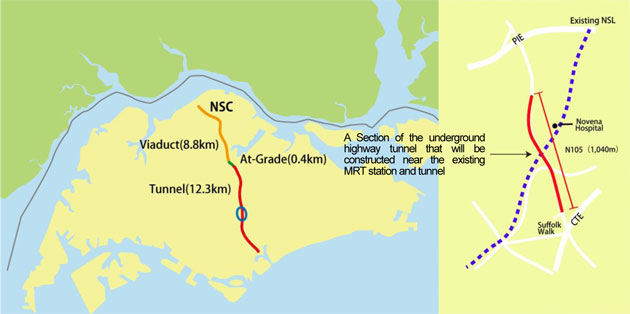 Construction outline
Project Name

North-South Corridor (NSC) N105 Section

Client

Land Transport Authority of Singapore

Contractor

Penta-Ocean Construction Co., Ltd. (58%)
Bachy Soletanche Singapore Pte Ltd (42%)

Contract Amount

Joint Venture Amount: About JPY 64.2 Billion
Penta-Ocean Share Amount: JPY 37.3 Billion

Site

Novena, Singapore

Period

About 100 months (Scheduled Completion: November 2026)

Outline

| | |
| --- | --- |
| Road Detour | 13 Rounds |
| Diaphragm Wall | 112,000m3 |
| Piling Work | 330 nos. |
| Ground Improvement Work | 22,000m3 |
| ERSS and Earth Works | 693,000m3 |
| Box Culvert | 180,000m3 |
| Waterproofing | 59,000m2 |
---