This Page is Home

Updates
Penta-Ocean Construction Co., Ltd.
Toa Corporation
Rinkai Nissan Construction Co., Ltd.

Award of Construction Contract for Large-Scale Port Construction in Indonesia
Tokyo, Japan July 17, 2018 The joint venture of Penta-Ocean Construction Co., Ltd. (President: Takuzo Shimizu); TOA Corporation (President: Masaki Akiyama); Rinkai Nissan Construction Co., Ltd. (President: Takehiko Yamaguchi); PT PP(Persero) Tbk.; and PT Wijaya Karya (Persero) Tbk. has been awarded the contract for construction of Patimban Port Development Project (1) Package 1: Terminal Construction by the Directorate General of Sea Transportation of the Ministry of Transportation of the Government of Republic of Indonesia with a contract value of approximately JPY 50 Billion for the joint venture. The construction period of the project is 25 months.
The project is funded under the ODA loan scheme of Japan International Cooperation Agency (JICA). The joint venture will construct a new port at Patimban area where located in the eastern part of Jakarta metropolitan area and develop as the largest international trade base of Indonesia aligned with Tanjung Priok Port, the current largest port in the country.
In Jakarta metropolitan area, which has a large number of Japanese manufacturing firms, the traffic congestion on the access road to Tanjung Priok port has been a major issue due to increasing volume of cargo transportation. Therefore, the construction of new Patimban Port is expected to diversify cargo transportation that concentrating in Tanjung Priok port and will help improve logistical efficiency in the area.
ODA loan scheme for the project this time includes the Special Terms for Economic Partnerships (STEP) aiming toward technology transfer to the developing countries by best use of Japanís superior technologies and know-how in the field. This project will be scheduled to utilize the advanced technologies of Japan in the reclamation work, soil improvement work, pier construction, etc. providing shorter work schedule through time-saving and rapid construction methods.
Penta-Ocean Construction, TOA Corporation, and Rinkai Nissan Construction have worked continuously in numerous projects in Indonesia such as ODA financed projects; petrochemical and LNG-related facilities including factory buildings of the Japanese manufacturers.
Each company will continue to contribute to the further development of the country by making full use of the abundant experience and technical strength cultivated both in Japan and overseas.
Site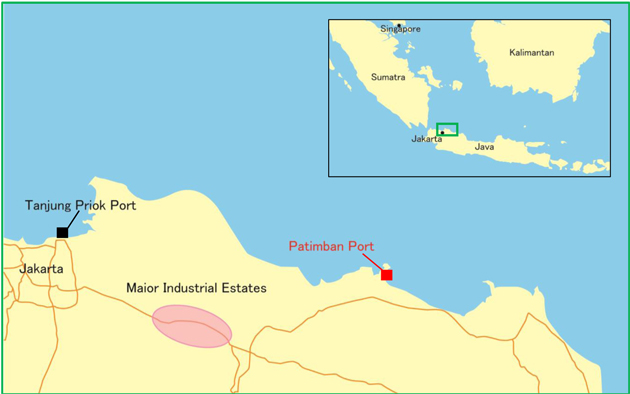 Construction outline
Project Name

Patimban Port Development Project ( I ) Package1:Terminal Construction

Client

Directorate General of Sea Transportation, Ministry of Transport, Republic of Indonesia

Contractor

Penta-Ocean Construction Co., Ltd. (46%)
TOA Corporation (19%)
Rinkai Nissan Construction Co., Ltd. (5%)
PT PP (Persero) Tbk (Indonesia) (18%)
PT Wijaya Karya (Persero) Tbk (Indonesia) (12%)

Contract Amount

Joint Venture Contract Amount:Approx. JPY 50 Billion

Site

Patimban District, Suban Regency, West Java Province, Republic of Indonesia

Period

25 months (Planned)

Outline

Pier

Container Terminal Berth L=420m, Car Terminal Berth L=300m

Dredging

(-10m) 3,500,000m3

Reclamation

64.6ha (Container & Car Terminals)

Soil Improvement

CDM (Cement Deep Mixing Method) Qty:Approx. 41,000 nos.
CPM (Cement Pipe Mixing Method):60ha

Pavement

1 Lump Sum

Building Work

1 Lump Sum

Sewer & Storm Water Drainage

1 Lump Sum

M&E Works

1 Lump Sum
---