This Page is Home

Updates
Penta-Ocean Construction Co., Ltd.
Takuzo Shimizu, President, CEO and Representative Director
Penta-Ocean Construction Developed a System "i-PentaCOL" for collecting Civil Engineering data: In Order to Integrate a Variety of i-Construction Equipment
Tokyo, Japan – January 23 2018 - Penta-Ocean Construction Co., Ltd. (hereinafter referred to as "Penta-Ocean ") is pleased to announce that we have developed a system for collecting a variety of construction equipment data with Information and Communication Technology (ICT), based on "i-Construction" promoted by the Ministry of Land, Infrastructure, Transport, and Tourism. The system has been applied to civil engineering construction sites, in order to foster productivity, and save labor in operations. By introducing the system, it helps integrate the data of construction equipment and survey measurement instruments produced by multiple manufacturers. Moreover, the system enables users to utilize all of the data with a single system.
In civil engineering works, engineers and workers have to integrate and manage construction data, which vary among heavy machines and equipment, for example, by using a system to control backhoes or bulldozers. There had been many approaches taken to organize the data in the past, such as collecting data into a private cloud and integrating diverse data with dedicated software. Yet, there were no platforms to link multiple clouds mutually and integrate data automatically. The more ICT is advanced, the longer time it takes for engineers and workers to operate various systems on construction sites, which has become an additional burdens on them. Then, the hours for system operation and administration should be reduced.
The following are what our system can do by automatically putting together a variety of ICT construction data in our "Cloud Server" and linking them with other systems:
1. It can reduce workloads and lighten burdens required for operating multiple systems, by integrating and processing all of the data with a single system.
2. It can easily check or trace the construction status, such as where the soil was taken, how much it was loaded onto lorries, and where it was conveyed for embankment construction.
3. It can grasp the regular excavation amount from tracking data of ICT backhoe blades or from measurement data of in-situ rock determined with stereo cameras. It can grasp the amount of loading and number of trucks for conveying soil, by using backhoe weight measurement apparatus. It can grasp the plane position from the positional information of a Global Positioning System (GPS) equipped with vibrating rollers. It can grasp the amount of embankment from height data of the GPS. With the grasped data above, it can control the progress of regular cut and embankment and rate of soil amount change, in order to manage soil distribution.
4. It can integrate the observation data of anemometers and rain gauges, with "Sensor Cloud" developed by Institute of Technology, Penta-Ocean. It can maintain the environments and assure safety, by promptly making a decision to take countermeasures against dust or cancel construction works and announce the decision, according to the data of wind velocity, wind directions, and rain precipitation.
The structure of our newly developed system "i-PentaCOL" for integrating civil engineering data , and the summary of the utilized ICT for the system are shown in Figure 1.
For the first time, the system was applied to a roadwork site with a length of roughly 11 kilometres and an earthwork quantity of approximately 800,000 cubic metres. By operating an ICT backhoe, two bulldozers, and two vibrating rollers, the earthwork for approximately 6,000 cubic metres per month was conducted with this system. The result showed that the system was able to reduce the amount of time required when two employees process data and operate equipment by about 1.2 hours per person per day.
To sum up, we plan to apply the newly developed system,"i-PentaCOL" for integrating civil engineering data onto a large number of construction sites proactively from now on, in order to improve productivity and save labor in operations.
Figure 1 "i-PentaCOL", a System for Integrating Civil Engineering data developed by Penta-Ocean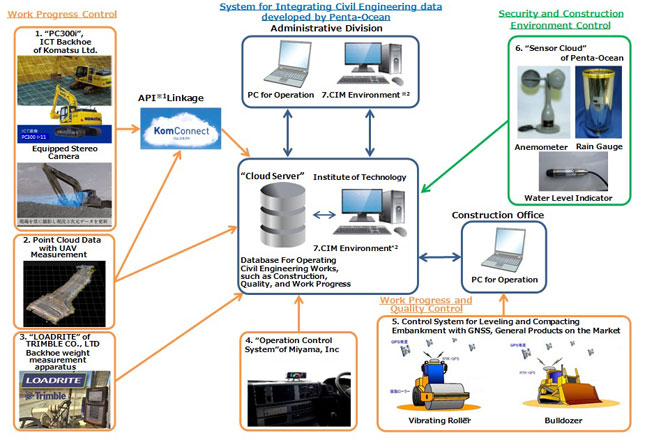 *1 Application Programming Interface (API) is a system for providing versatile functions of the platform, so that they are available outside of the platform.
*2 Application Programming Interface (API) is a system for providing versatile functions of the platform, so that they are available outside of the platform.
The summary of the utilized ICT for "i-PentaCOL" is as follows for your Reference:
1. It was the first time that "KomConnect" of Komatsu Ltd. provided functions, by linking Web Application Programming Interface (API), in order to design a system for producing databases. With "i-PentaCOL", regular excavation amount is obtained from the blade information of an ICT backhoes for loading operation.
2. With Unmanned Aerial Vehicle (UAV) measurements, it helps calculate excavation soil volume from the measurements obtained before and after excavation, and store it in the databases.
3. With "LOADRITE", Backhoe weight measurement apparatus, of TRIMBLE CO., LTD., it helps measure the loading weight of each dump truck, to control soil volume partially, as well as manage loading volume.
4. With "Operation control system" of Miyama, Inc., it helps manage the loading places from positional information, and control the amount of soil to be transported from the unloading places and the number of times of material handling, by equipping dump trucks with the Global Positioning System (GPS).
5. With a control system for leveling and compacting embankment, using the Global Navigation Satellite System (GNSS), which targets general products on the market, it helps conduct construction works by operating bulldozers with a guidance system, and controlling the height for leveling. Moreover, it can comprehensively control the construction status of vibrating rollers, by displaying the number of times of compaction and the plane position.
6. With "Sensor Cloud" we developed, it helps collect observation data in the cloud server, by taking best .
advantage of Internet-linked ambient measurement devices, such as rain gauges, anemometers, anemoscopes, and water level indicators of observation wells.
7. The Construction Information Modeling (CIM) environment is linked with the construction control data outputted from other systems.
---