This Page is Home

Updates
Order Received for Large-Scale Deep Cement Mixing Works in Hong Kong

August 22, 2016
Penta-Ocean Construction Co., Ltd. (President Takuzo Shimizu) has jointly received an order with China State Construction Engineering (Hong Kong) Ltd., and Dong-Ah Geological Engineering Co., Ltd. from Airport Authority Hong Kong for the Deep Cement Mixing Works, for Hong Kong International Airport's Three-runway System Project.
The total joint venture amount of the project is 48.8 Billion Yen, of which 24.4. Billion Yen is the Company's share.
The Deep Cement Mixing Works will be the initial construction works to be performed under the Three-runway System Project.
The Works are for 355 hectares in total of soil improvement by Deep Cement Mixing Method which divided into four (4) sections, the joint venture will undertake the largest section with 98 hectares.
The Hong Kong International Airport has the busiest air cargo transport, and the third busiest international passenger airport after Dubai International Airport, and London Heathrow Airport in the world. Now therefore, the installation of the Three-runway System is highly expected to solidify its firm position as the leading Asian hub airport, and provide a greater contribution to the Hong Kong's economic growth.
Since the establishment of the office in Hong Kong in 1986, Penta-Ocean has participated in numerous large-scale projects. The Government of the Hong Kong Special Administrative Region has presented a policy in which the functions of Asian hub airport will be strengthened to form a basis for the Hong Kong's development.
The company considers Hong Kong as one of the key markets for its overseas business operation and continues to further develop its activities in Hong Kong.
Site location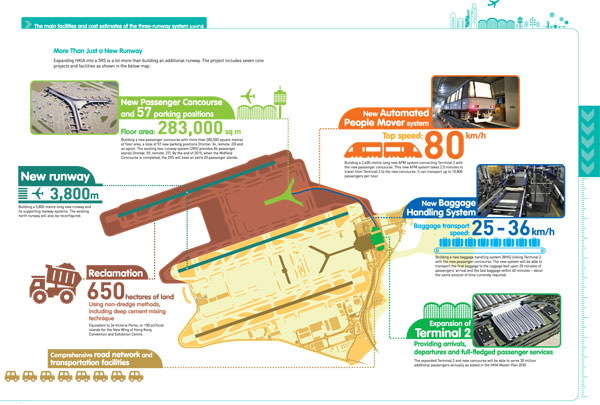 Provided by Airport Authority Hong Kong"Three-runway System"
Construction outline
Project Name

Hong Kong International Airport, Three-runway System Project, Contract 3201 - Deep Cement Mixing Works (Package 1)

Client

Airport Authority Hong Kong

Contractor

Penta-Ocean Construction Co., Ltd.
China State Construction Engineering (Hong Kong) Ltd.
Dong-Ah Geological Engineering Co., Ltd.

Contract Amount

JV Total Amount : Approximately JPY48.8 billion (HKD3.69 billion)
Penta-Ocean Share : Approximately JPY24.4 billion

Location

Hong Kong International Airport

Outline

·Sand Blanket (Seawall portion)
·Soil Improvement (Deep Cement Mixing)
---