This Page is Home

Updates
Building of a Multipurpose Self-Elevating Platform
- For safer, more efficient and more reliable crane operations offshore -
Jul 26, 2016


Penta-Ocean Construction Co., Ltd. (President: Takuzo Shimizu) hereby announces newly building a multipurpose Self-Elevating Platform (hereafter, SEP). With stable crane maneuvering capabilities, the SEP is suitable for marine civil engineering works or offshore wind turbine installation in harsher weather and marine conditions.
The basic design has been supervised by an experienced specialist GustoMSC (based in the Netherlands), which holds more than 70% share of the world market in SEP for wind turbine installation sector. Japan Marine United Corporation (based in Japan) undertakes the building of the SEP.
By introducing technologies and know-how of the mega SEPs used mainly in Europe for installation of oil rigs or offshore wind turbines, the SEP boasts its new continuous jack-up system that matches Japanese natural conditions and on-site characteristics.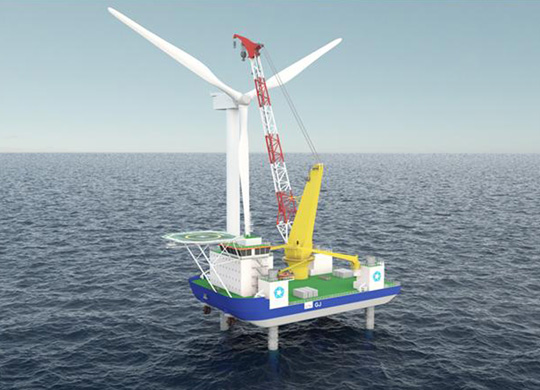 Concept Image
Distinctive Features
The SEP can jack up the platform to the height to which large waves cannot reach, resulting in raising the operation availability in harsher weather and marine conditions. As a result, the equipped fully-revolving crane with maximum 800 tons lifting capacity can demonstrate more stable, efficient and reliable crane operations.
The Dynamic Positioning System allows the automatic positioning of the SEP, enabling to reduce the operational time to precisely position the hull and jack-up legs on the seabed.
Longer legs have the ability to install components in the water depths up to 50m.
Equipped with a giant, fully-revolving crane with maximum lifting capacity of 800 tons, the SEP is designed to perform installation of large-scale marine structures, offshore 5-6 MW wind turbines and foundations.
The SEP is also designed for operations in Japan's Greater Coasting Area and for becoming a shallower draft vessel. The accommodation units and a helicopter deck for emergency transfer make it well suited for long-term operations in the place far from the mainland of Japan.
The SEP is capable of providing efficient transportation and installation to help shorten the construction time when employed with the Penta-Ocean's self-propelled multipurpose working vessel, "CP-5001".
Construction Schedule
July 27,2016     Shipbuilding Contract Conclusion
September 2018  Scheduled Completion and Delivery
The SEP equipped with a large-sized crane will be the first of its kind to be built in Japan. As a result of latest amendment to the Port and Harbor Act that took effect on July 1, 2016, the port area will be more accessible to operators wishing to construct offshore wind farms. The SEP is optimized to undertake the aforesaid task, as well as for construction of deepwater breakwaters and berths, undersea foundations for seaside roads, maintenance of port facilities and various marine civil engineering works in remote islands. We believe that our new SEP will make a great contribution to future coastal and ocean development in Japan by expanding the potential of marine space utilization.
---