This Page is Home

Updates
The Grand Opening Ceremony of Thilawa Special Economic Zone, the Republic of the Union of Myanmar
Oct 15, 2015

Penta-Ocean Construction Co., Ltd. (President: Takuzo Shimizu) together with a local partner, Suntac Engineering and Construction Co., Ltd., have substantially completed the Phase 1 of Thilawa SEZ Zone A Development Project in the Republic of the Union of Myanmar which was ordered by Myanmar Japan Thilawa Development Ltd. (MJTD).
The construction of the Phase 1 Project was commenced in December 2013 and was substantially completed within two years despite of severe natural conditions, such as maximum rainfall of 800mm/month in the rainy season between May and October. It was our great pleasure to cerebrate the grand opening of the project in time. We believe that we have got trust and confidence from our client as well as from all stakeholders both in Japan and Myanmar.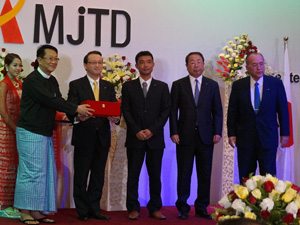 President Shimizu being awarded a celebratory gift
From the left: Mr. Thein Han, Chairman of MJTD
Mr. Shimizu, President of Penta-Ocean
Mr. Sakai, Project Manager,
Mr. Kimata, President of Kubota Corp.,
Mr. Maeda, President of Kinden Corp.

An auspicious Grand Opening Ceremony was held in the presence of H.E. Mr. Taro Aso, Deputy Prime Minister of Japan, H.E. Mr. Nyan Tun, Vice President of Myanmar, and other hundreds of guests on September 23, 2015 which hosted by MJTD.
During the ceremony, Mr. Aso said in a speech, "Thilawa Special Economic Zone should become a gateway to the Myanmar market for Japanese companies with its high quality infrastructure and international environmental standards. It also contributes to the economic growth in Myanmar and to the creation of employment." It is expected that the investment of Japanese corporations to Myanmar would gain momentum with the opening of the first special economic zone in Myanmar.
47 companies from 13 countries, including 24 Japanese companies, have already decided to set up in the Thilawa Special Economic Zone.


In this construction period, the Phase 1 development (approximately 211 hectares) of Zone A, an advanced development area of approximately 400 hectares, was constructed by the partnership between our company and a local company. This area is a part of the Thilawa Special Economic Zone that is located approximately 20km southeast of Yangon City whose approximate total area is 2,400 hectares. Currently, the Phase 2 development (approximately 105 hectares) of Zone A is being continued (scheduled to be completed in August 2016).

The client, MJTD, is a joint venture for the development of Thilawa SEZ Zone A, in which Sumitomo Corporation, Mitsubishi Corporation and Marubeni Corporation invest 39%; Japan International Cooperation Agency (JICA) 10%; and the government and private sector of Myanmar 51%.
In addition, development was promoted by the combined efforts of public and private sectors in Japan and Myanmar.
Furthermore, Penta-Ocean completed and delivered the first factory building in Thilawa SEZ, Koyorad Myanmar Factory, to our client, Koyorad Myanmar Corporation Co., Ltd., in August 2015, which has been constructed simultaneously with Thilawa SEZ Zone A Development Project.
In addition, Penta-Ocean have been awarded seven factory/warehouse building construction projects from Japanese clients in Thilawa SEZ which is under construction.
Using these construction results in Thilawa as a foothold, the company will attempt aggressive sales development in the future.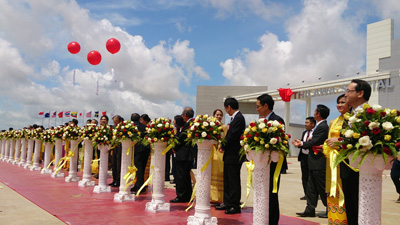 President Shimizu participating a tape cutting in the opening ceremony (Right)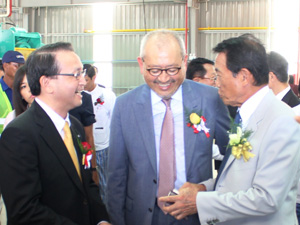 Site Visit to Koyorad Myanmar Factory
From left/Mr. Shimizu, President of Penta-Ocean, Mr. Ejiri, Chairman of Koyorad Group, H.E. Mr. Aso, Deputy Prime Minister of Japan
Project outline

Project Name

Thilawa SEZ Zone A Development Project

Client

Myanmar Japan Thilawa Development Ltd.

Contractor 

Penta-Ocean Construction Co., Ltd. / Suntac Engineering and Construction Co., Ltd.

Location

Thilawa Special Economic Zone, the Republic of the Union of Myanmar

Contract Period

February 2014 ~ August 2016

Description

Development of Industrial Zone (EPC/Turnkey Contract)
Phase 1 211 ha
Phase 2 105 ha
Total 316 ha



・Land Grading Work
Soil Cutting: 2,800,000 m3, Filling: 2,000,000 m3
・Road Work
Concrete Pavement: 114,000m2
・Drainage System
Retention Pond, Retention Canal, Box Culvert: 1 Lot
・Water Supply System
Water Purification Plant: 2 Units, Intake Facility: 1 Lot, Ductile Iron Pipe Installation
・Sewerage System
Sewerage Treatment Plant: 2 Units, RC Pipe Installation, Pump Station
・Power Supply System
Laying Electrical Cable (Overhead and Underground Cables): 1 Lot
・Miscellaneous Works
Gate, Fence, Landscaping etc.: 1 Lot










Site location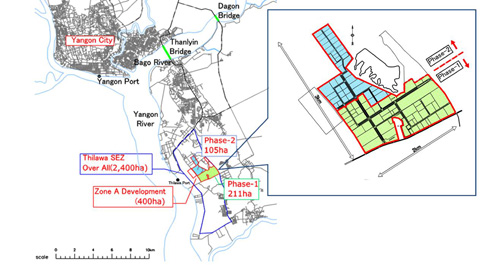 ---