This Page is Home

Updates
Order received for subway construction work in Singapore
- First Japanese construction company to win two contracts for the Thomson Line -
Feb 27, 2014
Penta-Ocean Construction Co., Ltd. (President Yoshio Murashige) has received an order from the Singapore Land Transport Authority (LTA) for the construction of the Sim Ming Station and surrounding tunneling works (T211 construction area) on the Thomson Line of the Mass Rapid Transit (MRT) System (subway and elevated railway).
The amount of the order received is 36.7 billion yen and the construction is scheduled to be completed in 76 months by May 2020. The Company has also received an order for the construction of the Woodlands North Station and surrounding tunneling works on the Thomson Line in Dec 2013. This is the sixth order received including orders for other MRT construction works received in the past.
In recent years, numerous public tenders have been called for construction works in Singapore amidst intense competition among construction companies from China, South Korea, Europe and Australia in addition to those from Japan and Singapore. Amidst similarly intense competition for the tenders of the Thomson Line, the Company became the first Japanese construction company to win contracts for multiple construction areas on the same line. Currently, the Company is involved in one MTR (Mass Transit Railway) construction project in Hong Kong and 2 MRT projects and 3 other public infrastructure and tunneling projects in Singapore. The current order was received in recognition of the Company's advanced technical capabilities, including its track record in Japan.
Since establishing its sales office in Singapore in 1965, the Company has participated in numerous large-scale projects in Singapore. Going forward, it is expected to continue with other infrastructure projects such as energy-related facilities, roads, railways, harbour construction and so on. The Company considers Singapore to be one of the key markets for its overseas business and will continue to proactively expand the business while keeping an eye on the bottom line.

Construction site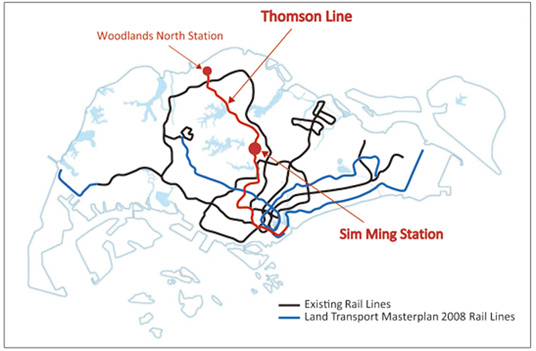 Construction outline

Project Name

Thomson Line T211

Project Owner

Land Transport Authority

Contractor 

Penta-Ocean Construction Co., Ltd.

Contract Sum

S$454mil

Work Place

Sin Ming & Ang Mo Kio, Singapore

Construction Period
76month(Feb 2014 ~ May 2020)
Outline of Construction

【Station Building】( Design and Construction)
         ・Method of Construction: Open Cut Method
         ・Length:approximately 250m
         ・Width:approximately 30m
         ・Depth:approximately20m

【Tunnel】
         ・Method of Construction: Slurry Shield Method
         ・Length:approximately 1.1km x 2、approximately 800m x 2
         ・External Diameter of Shield Machine:6,350mm
         ・Completion Internal Diameter:5,800mm
【Others】
         ・Road diversion、Pedestrian overhead bridge relocation、etc

---