This Page is Home

Updates
Penta-Ocean Construction Co., Ltd.
Takuzo Shimizu, President, CEO and Representative Director
Award of New Building Construction Contract for The University of Hong Kong
Tokyo, Japan - March 25, 2021 - Penta-Ocean Construction Co., Ltd. has received the order from the University of Hong Kong for the construction of three new buildings, including two Laboratory Buildings corresponding to fields such as biomolecular engineering and bio-medical engineering (Section A, B) and the IT Building integrating the informational data of the University (Section C). The contract amount is approximately JPY 30.3 billion.
The University of Hong Kong (HKU), which was founded in 1911, is Hong Kong''s first and oldest higher education institution. It is known around the world as a research-intensive comprehensive university with ten faculties, including the Faculties of Medicine, Engineering, Arts, Law, Science, Dentistry, Architecture, Business and Economics, Education, and Social Science. HKU is Asia's global university, with diverse students and faculty community and a vast network of academic exchanges with universities and institutions all over the world.
The construction work is challenging because it involves building on a slope with Victoria Peak in the background. As a result of our company's experience and construction plan being highly evaluated, we have received the work order. The project is expected to be completed in 2024.
This year marks the 35th anniversary of our company's venture into the Hong Kong market in 1986. We have worked on numerous large-scale projects, including the MTR's new Victoria Harbour railway tunnel, ground improvement work for the Hong Kong International Airport Third-Runway System, and Hong Kong Government office buildings, data centres, and medical facilities. We have also been working on a number of education-related facility projects, including the Chinese University of Hong Kong's Integrated Teaching Buildings, the Vocational Training Council's Hong Kong Design Institute, and the International Culinary Institute, in response to the demand for new school construction and rebuilding following the implementation of the "New Education System" in fiscal 2009.
We will continue to develop our business proactively in the future, with Hong Kong as an important market for our overseas business.
Rendering images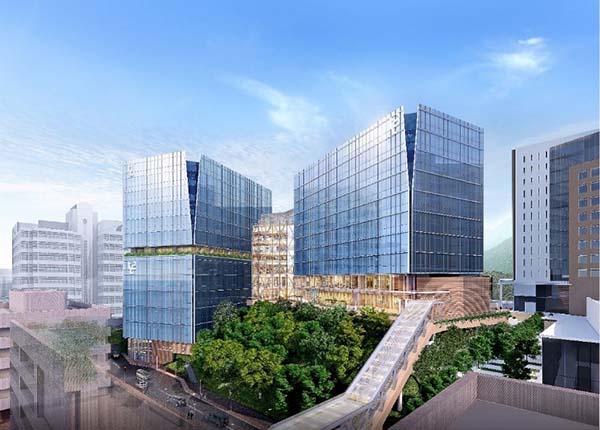 In front, the Laboratory buildings (Section A, Section B from the left),
and the IT building (Section C / without perspective) is behind them.
Project site location

Project outline
Project Name
Redevelopment of No.2 University Drive and IT Building for The University of Hong Kong
Client
The University of Hong Kong
Contractor
Penta-Ocean Construction Co., Ltd.
Contract Amount
Approx 30.3 billion JPY(2,211 million HKD)
Site
Pok Fu Lam, Hong Kong SAR
Outline

[Usage, etc.]
Education-related Facilities
·Laboratory Building(Section A)
9-Storey with 4 Basement, RC Structure
·Laboratory Building(Section B)
9-Storey without Basement, RC Structure
·IT Building(Section C)
8-Storey without Basement, RC Structure
[Height]
45.9m
[CFA]
Approx 45,000m2
---