This Page is Home

Updates
Penta-Ocean Construction Co., Ltd.
Takuzo Shimizu, President, CEO and Representative Director
Award of Construction Contract for Landmark Polder Development Project in Singapore
Tokyo, Japan – April 18, 2018 - Penta-Ocean Construction Co., Ltd. (hereinafter referred to as "Penta-Ocean") was recently awarded the Construction of Polder at Areas A and C of Pulau Tekong in joint venture with Boskalis International BV Company (Netherlands) by the Housing & Development Board of Singapore (HDB) with a contract value of SGD 1.23 billion (JPY 99.9 billion). Penta-Ocean has a share value of approximately JPY 48.9 billion (49%) in the joint venture. The construction period of the project is 4 years and slated for completion in April 2022.
This project will add about 810 ha of new land at the north-western tip of Singapore's Pulau Tekong island. This is the first time a Polder is to be constructed in the country. The project works include the construction and reinforcement of a 10-kilometre long dike surrounding the polder, earthworks and the construction of a network of drains, water pumping systems and canals.
Penta-Ocean has been contributing many large-scale land development projects in Singapore. Presently Penta-Ocean is carrying out Tuas area Finger One Reclamation Project (Proposed Reclamation at Tuas Finger One) awarded by the JTC Corporation in 2014. Most recently, Penta-Ocean was awarded for the Tuas Terminal Reclamation, Wharf Construction and Dredging Phase II by the Maritime and Port Authority of Singapore.
Since our initial venture in Singapore in 1964, we have been actively participating in numerous large-scale projects. Major infrastructures, such as harbors, subways, expressways, etc. have been planned in this country. With rich experiences nurtured by time and challenges and with productive human resources, we will continuously contribute to the immense growth of Singapore, considering the country as the most important base in our overseas business operations.
Site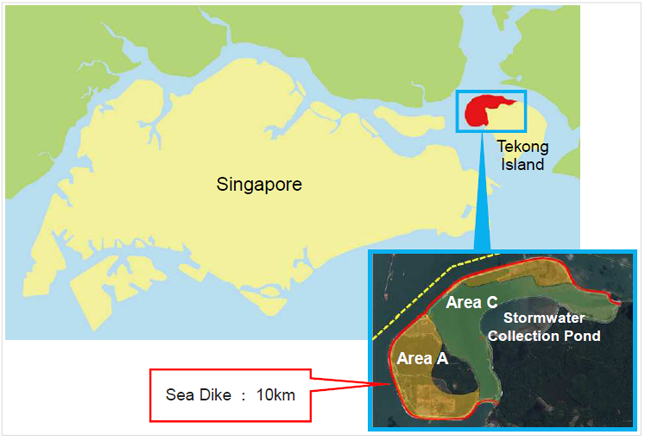 Construction outline
Project Name

Construction of Polder at Area A & C of Pulau Tekong

Client

Housing & Development Board of Singapore

Contractor

Boskalis International B.V.(Netherland)(51%)
Penta-Ocean Construction Co., Ltd (49%)

Contract Amount

Approx. JPY99.9 billion (SGD1,232 million)
Penta-Ocean Share: Approx. JPY48.9 billion

Site

Singapore, Tekong Island

Period

4 years

Outline

Reclamation by Polder Method : 810 ha
Length of Sea Dike : 10 km
Drainage : 29 km
Pumping System
Dredging Works
Ground Improvement
Road Construction
---