This Page is Home

Technologies and Innovation

Architectual Technology

Fully Waterproof Fluorocarbon Wall Paper
Fully Waterproof Fluorocarbon Wall Paper
Production lines in food processing plants are cleaned daily in order to maintain ultra clear environments. Apart from the floors, it is painstaking to clean room walls and ceilings, though it is likely that dirt and foreign matter present there during production stages may act as sources for contamination. Our newly developed "Washable Wall," fully waterproof fluorescent wall paper is ideal as an interior material for food processing plants, owing to the contamination-resisting characteristics of fluorocarbon resins and because of its waterproof propertiese.
Features
The waterproof characteristics of the ground layer has greatly improved the cleaning function of the paper.
High-density fluorocarbon coating enhances contamination resistance.
Water repellence contributes to better hygienic conditions.
Food processing facilities may continue operation even during short-periods for replacement of the paper.
Applications
Interior walls and ceilings of food processing plants
Interior walls and ceilings of hospital patient rooms, operating rooms, and other germ-free environments
Interior walls of semiconductor and precision machine manufacturing plants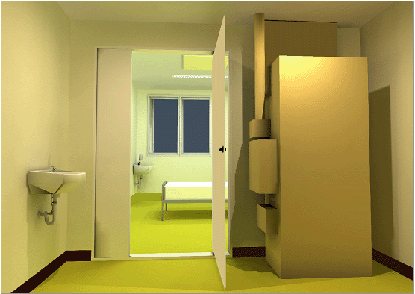 ---