This Page is Home

Technologies and Innovation

Architectual Technology

Renewal and Reformation
Renewal and Reformation
Another important area of business for Penta-Ocean includes recycling and the effective reuse of resources and construction materials. This includes architectural engineering projects, where the Company is developing a life-cycle resource and energy saving system for new and existing buildings. It has also developed a highly efficient system for building remodeling projects.

The following three factors should be considered when plans for remodeling of buildings are formulated.

Physical factors such as degraded appearance, water leakage, increased energy expenses resulting from superannuation.
Safety factors such as the elimination of glass, rails, and other materials and refurbishing existing buildings for enhanced earthquake resistance and longer service life.
Social factors focused on creating more comfortable and healthful work and living environment and the construction of intelligent buildings equipped with health control and security measures.
Building renewal projects for aging buildings represents specific challenges for construction companies. Aseismic retrofitting is particularly important, as is the development of cost reducing schemes and plans for extending the service life of buildings. Penta-Ocean has also developed reconstruction systems that allow for the retrofitting of a building while it is occupied. Penta-Ocean is able to design the most appropriate proposal for each project owing to its expertise in carrying out diagnostic protocols, displaying concrete renewed images in CG simulation systems and offering comprehensive service packages.

Penta-Ocean Renewal Diagnosis
It is a naturally occurring fact that over time, buildings deteriorate and weaken. In the future, increasingly, construction companies will be required to provide upkeep maintenance that will ensure safety and longevity for these important structures, despite long-term use and the occurrence of earthquakes and other debilitating phenomena.
Preparatory survey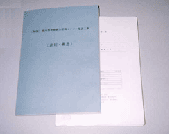 Design Book
In the preparatory survey, Penta-Ocean listens to what customers tell us what they require, we then assess the current conditions of their property and identify and recommend what can be done to increase the safety, stability and longevity of the building in question.
Environmental diagnosis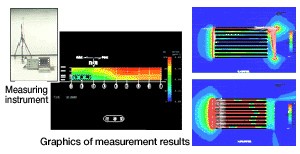 Airflow analysis
Penta-Ocean engineers recreate the internal environment based on measurements and evaluate multiple environmental factors, including temperature, humidity, airflow, noise and vibration.
Deterioration analysis

Infrared method thermal image
Buildings deteriorate over time. We survey the reduction in function and performance with the passage of time and evaluate the extent of deterioration and its overall impact on the building in question.
Earthquake resistance diagnosing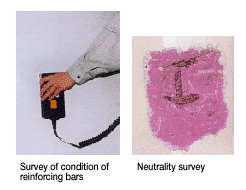 We evaluate a building's earthquake resistance and make proposals to make it more resistant to earthquakes.
Energy conservation analysis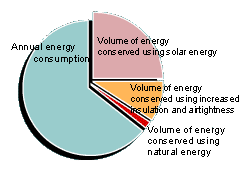 Case study of energy conservation at Penta-Ocean
Penta-Ocean assesses the energy consumption of the building and the performance of equipment and machinery installed there and then forms proposals for optimum energy conservation.
---