This Page is Home

Technologies and Innovation

Architectual Technology

PSBI System Method
PSBI (Penta-Ocean Seismic Base Isolation) System Method
Totally different from conventional seismic technologies, PSBI (Penta-Ocean Seismic Base Isolation) System substantially increases the earthquake-resisting safety of buildings by employing an economical process for minimizing the transmission of earthquake vibration.

The system places a seismic isolation device under a building's foundation pillars to absorb vibration, thereby minimizing the oscillation of the building during earthquakes. Isolation devices have often adopted rubber supports made of alternate layers of thin steel plates and rubber sheets. This structure supports the building securely against vertical vibrations while absorbing horizontal seismic energy through the soft rubber layers.

Installation of the PSBI system in existing buildings allows them to meet current Building Standard Law requirements.
Merits of the PSBI System
To improve aseismic strength of buildings
To prevent furniture from falling down
To protect surface materials from damage
To improve dwelling comfort and safety

To keep machines and tools functional
To design buildings that are free from seismic limitations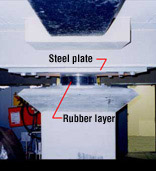 ---