This Page is Home

Technologies and Innovation

Architectual Technology

Portal Grid Method
Portal Grid Method
The Portal Grid aseismic retrofiting method entails the installation of steel framing to external pillars and beams on existing buildings. Even when braces that have conventionally been indispensable for reinforcement structures are omitted, this method achieves sufficient earthquake resistance. Grid bracing does not impair the view from or natural lighting into the building and external facades can be constructed to camouflage the supports at the time the retrofitting work is done.
Features
Lack of braces does not impair the view from and natural lighting into buildings.

Externally retrofitting allow for continuous use of the building.

External redesign of a building or the addition of a balcony can be done with steel reinforcement work during the retrofitting process.

The method does not require complicated steel framework, and this shortens the overall construction period.

This method is widely applicable to condominiums, government buildings, school buildings, hospitals, and commercial facilities.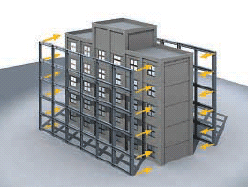 ---