This Page is Home

Technologies and Innovation

Architectual Technology

Formalin-removing Device
Formalin-removing Device
Formalin is widely employed in medical institutions and pharmaceutical factories to sterilize germs, fungi, virus, etc. On the contrary, it is detrimental to human body and is said to be carcinogenic. Control on its concentration is applied to some working environment while that on exhaustion prevails in some zones.

As one of countermeasures applicable to such controls, our company produces analytical instruments for 20 ppm or lower concentrations and for higher concentrations applicable to formalin fumigation facilities. An appropriate choice of these two types enables users to sterilize and purify the atmosphere in an economic and efficient manner.
Features
Penta-Ocean's exclusive honeycomb catalytic filters quickly decompose high concentrations of formaldehyde into harmless substances.
Since the decomposition takes place at moderate temperatures, Penta-Ocean's system does not need any combustion devices. This makes it excellent in terms of safety and energy-saving performance. And, using no neutralizers, it is free from waste liquid disposal.
Filters can be regenerated, thereby dispensing with frequent and costly filter changes and disposal.
Using stainless steel HEPA filters, a high-concentration version is applicable to super-clean rooms in pharmaceutical factories.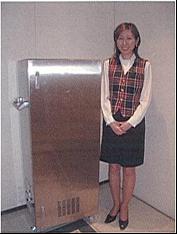 ---